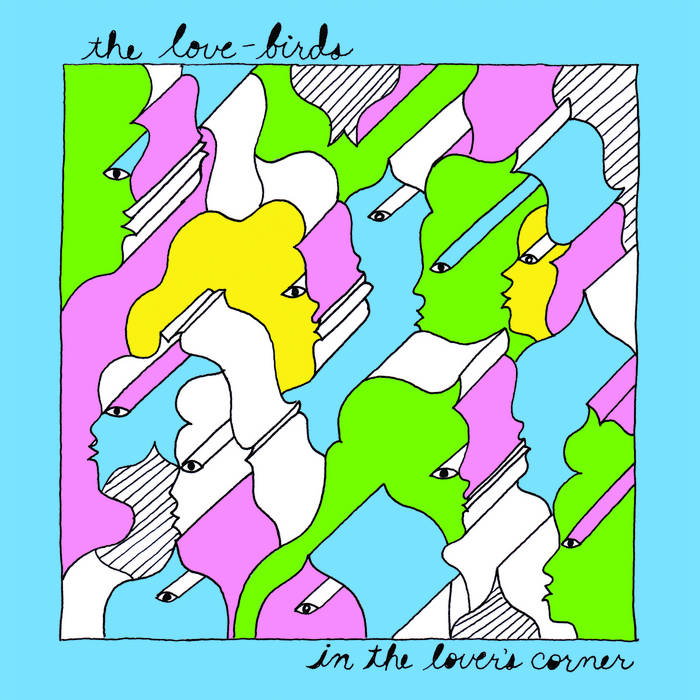 The Love-Birds
would be a veritable pastiche of all things 70/80/90's jangle-pop if it was not for the fact that somehow, despite wearing some very obvious influences on some very  prominent sleeves, they still manage to adroitly refresh whatever type of jangle into something with enough originality to give it an altogether 'The Love-Birds' feel.
One of the major arteries of the album is supplied by the melodic blood and atmosphere of all things Teenage Fanclub with tracks such as Again and the superlative Kiss and Tell (see below) being given added Scottish pop-centricity by the mastering of TFC's very own Norman Blake.
https://bandcamp.com/EmbeddedPlayer/album=425855112/size=large/bgcol=ffffff/linkcol=0687f5/tracklist=false/artwork=small/track=1008124690/transparent=true/
Some bands may have been overpowered by such an input and succumb to a final product that wallows in an unintentional homage. However,
these tracks still undeniably belong to the San Francisco band, as they infuse less than subtle
Alex Chilton
/
Big Star
guitar extroversion, into a sound that already stands apart from TFC by virtue of vocal deliveries (shared by
Thomas Rubenstein
and
Eli Wald
) that are far more determined, aggressive and forthright than their influences ever suggested..
Modern fuzz pop, especially kiwi acts like The Prophet Hens and Salad Boys also get reverence, although perhaps the fuzz is more muted and the jangle-pop more prominent in the manner that a band such a Zebra Hunt or even some of the Brooklyn janglers like Olden Yolk might convey their ramshackle jangle. Whatever the correct reference points are, the juxtaposition of the above two aesthetics provides some truly great moments in tracks such as Angela, December (Get To You) and the brilliant Tommy's Theme.
Unsurprisingly for an author who dedicates an entire blog to jangle-pop, it is the moments when Wald's 12 string is given increased prominence that provide the true stand outs. Tracks such Hit My Head (see below) and Weak Riff cajole and twist The Byrds style jangled guitar clarity around just the slightest emphasis of fuzz and echo to give a sound that is a strange muted mixture of 60's jangle and a laconic Brit invasion pop. It is a strange juxtaposition but one where the sum of the whole, works infinitely better than that the individual re-engineered parts.
Hit My Head
Obviously this band have attracted the likes of Kelley Stoltz and Norman Blake to assist with knob twiddling duties and music mags of the internet world are inundated with the professional music journos falling over themselves to think of different ways to say how brilliant they are. Ultimately this could well be there downfall as there will be more scrutiny upon the difficult sophomore album' and people waiting to shoot it down.
However if they can just keep shifting the goal posts of the various different styles of jangle-pop, mixing them together in unique ways and adding their less than subtle vocal stylistics, then all of these previously utilized tools should guarantee continued critical acclaim.