Welcome to Fickle Finger #0007. This week the Fickle Finger chanced upon the year 2006, for no other reason than it just did ! So we thought we would run with it.
As such we hope you enjoy 10 tracks of 2006 jangle goodness augmented with a further 10 tracks from anywhere that the fickle finger has pointed at of late.
Hope you enjoy !
1. Smokescreens – Staring at the Sun (2017) (00:00)
Slumberland Records snapped up this Los Angeles based four piece and released their critically acclaimed 2018 album, Used to Yesterday.
However, I still devote much play time to the Meritorio Records released eponymous debut and this track, with it's Flying Nun style rumbling bass line that still remains something of an obsession !
Artist Links: Twitter / Facebook
2. Sonic Youth – Incinerate (2006) (03:05)
Sonic Youth are best know for their alt.rock / post-punk tendencies that provided a soundtrack to disaffected 80/90's American youth. However, their music always had an essence of jangly guitars to provide foundation to the surrounding mayhem.
As they entered the 2000's, the angst took a more deliberate direction and the jangly hooks began to breathe…Incinerate breathes like no other !
3. The Airfields – Lonely Halls (2006) (07:56)
Along with The Diskettes, The Airfields were possibly the flagship band for the small, but perfectly formed Humblebee Recordings label, who operated out of Edmonton Canada between 2003 and 2008.
Humblebee specialized in backing jangly twee/indie-pop bands and despite their limited studio output The Airfields with their Heavenly style shimmering guitar work juxtaposed over Cocteau Twins style dream pop echoes, are remembered with almost iconic status by fans of this sort of music and this track from The Laneway EP has remained indelibly etched on my musical soul.
4. Punk TV – May (October Remix) (2011) (11:07)
Punk TV are a three piece band from Sibera, Russia who are perhaps better known for their spaced out electronica vibe. Although usually not quite my thing, this band have had me clicking their various social media follow buttons as every so often they produce something so 'beautiful jangly' that they cannot be ignored.
This instrumental cover of the Brittle Stars track is certainly one of these occasions and eclipses even the brilliance of the original, despite it's brevity.
Artist Links: Bandcamp / Facebook
5. The Whitest Boy Alive – Burning (2006) (13:10)
Norwegian band TWBA, would probably not be associated with jangle-pop in any manner, with a general style that touched upon dream pop, occasional shoegaze and smooth funk/ soulful indie pop during their short two album tenure.
However, there were times when they stripped away all the above machinations and just let some beautifully muted jangle-pop / guitar-pop riffs dominate their sound. This track presents them at their very best.
Artist Links: Facebook / Twitter
6. The Oilies – Anywhere With You (2018) (16:16)
The Oilies are the latest project of Carly Putnam (The Mantles / Art Museums) and as such they engendered a bit of interest with this debut single.
With it it's gloriously, slightly disturbed dominant riffs, acting as a backdrop to a vocal delivery that flutters between the manic off kilter of Violent Femmes and the controlled indie pop feyness of any number of early 2000's inde-pop bands, this band is a Slumberland Records act awaiting signature !
Artist Links: Bandcamp
7. Trying – Nobody Likes Halloween Like You Do (2017) (19:34)
This track was the B-side to the 2017 Marathon of Fright digital single and in my opinion is the best on the eventual 2018 self released album, Leave and Never Come Back.
Although their Bandcamp bio insistS they are a 'wholesome indie-pop' outfit, this four piece show on this track that they can jangle-fuzz with the best of them !
Artist Links: Facebook
8. The Caraway – A Rainy Day (2006) (23:16)
The Caraway was the solo project of Shimada Osamu who released 5 EP's in the early 2000's and then put all 15 tracks on a eponymous farewell compilation.
The Caraway were part of the Shibuya-Kei scene (a district in Tokyo – think the Japanese version of South Korea's Gangnam vibe, but with more pride) that celebrated all things indie-pop and retro after Japan went a bit mad for Flipper's Guitar in the typically Japanese way, that sees them take the most obscure bands to their hearts. This track is a beautifully jangling testament to that movement and Osamu's brillance.
Artist Links: Twitter
9. The Colonnade – Saunter (2016) (27:23)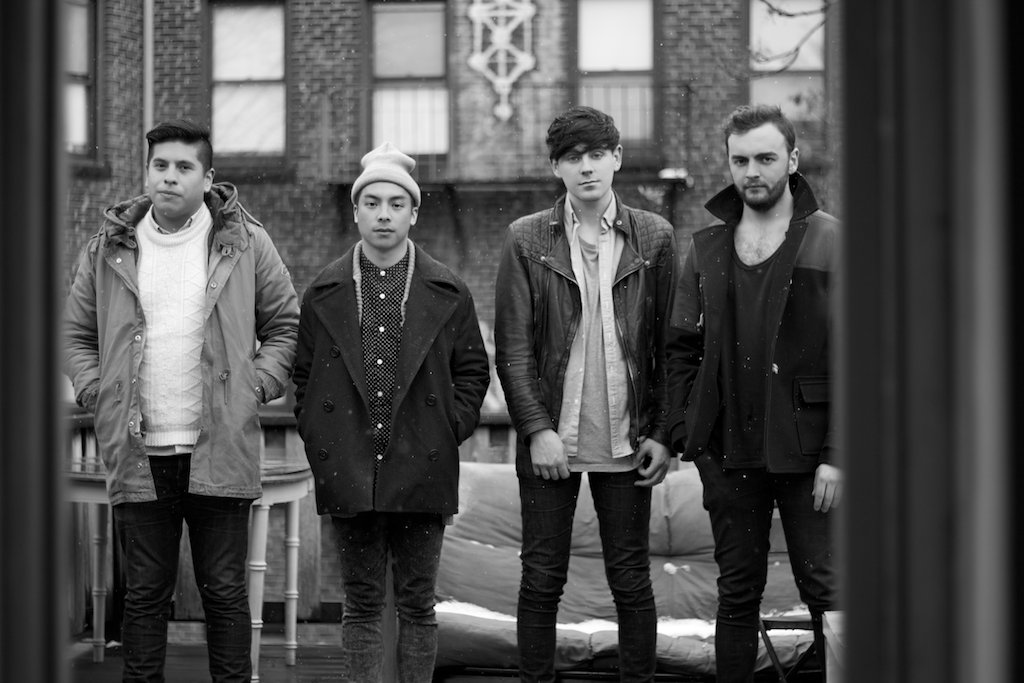 The Collonnade were a Boston, 4 piece, who released one great album (Femme) then trundled off and never updated their various social media pages again?
Juxtaposing emo vocals to jangly indie rock, Saunter's added The Feelies style agitation makes it a truly superb track. It's such a shame they split !?
10. The Faintest Ideas – Nosebleeders on the Track (2006) (29:52)
Swedish band
The Faintest Ideas
, released several EP's in the early 2000's under the name of
The Javelins
, until some chappy from America got all copyright legal on them.
Undeterred they re-invented their name and continued on their crusade to bring back the strange 80's mixture of fluttering jangle-pop and The Cure like vocal screech, in a bag load of 2-3 minutes pop songs.
An acquired, but glorious taste and something very different to all the Postcard revival indie-rock bands that were dominant in the mid-2000's.
11. The Finest Drops – Impossible Now (2018) (31:35)
The
Finest Drops
' Soundcloud page states that:
"
We are an anti-commercial, pro-creativity collective, with a diy ethic. We don't subscribe to music industry objectives, which is primarily interested in fashion, product and money'.
…but do not let all that worry you. This three-piece from Newcastle, play sprawling jangling post-rock that you can get completely lost in. This is my favourite from their latest self released Robots EP.
12. Spud Cannon – Runaway Strays (2018) (35:42)
Poughkeepsie, NY five- piece Spud Cannon, are another band that adds to the perception that New York is rapidly becoming the modern mecca of jangle-pop.
Perhaps just a little bit more indie-pop/spacious Lake Ruth style than quirky Holy Tunics, this track shows them at their best on their new self released album Squeeze.
Artist Links: Facebook
13. Shack – Cup of Tea (2006) (38:13)
Proud Liverpudlians, Shack were led in the late 90's to the mid 2000's by Micheal Head. This track is from their The Corner of Miles and Gil album that was their last release before his heroin addiction ripped the band apart.
Fortunately now recovered and releasing the same sort of wonderful typical Scouse/ jangle/sophisti-pop with Michael Head and the Red Elastic Band, Head will always be considered as an indie legend.
Artist Links: Twitter / Official
14. The Bluetones – Last Song But One (2006) (41:42)
The Bluetones have been lofted high upon the shoulders of a legion of 40 something Britpop fans with quirky haircuts as a band who have survived (they split a few years back, but are touring again) from the shouty, lad infused, id 90's musical era.
This is somewhat irksome considering the fact that the London based four piece have always been far too musically jangly and indeed gifted to ever really be linked to any sort of lad culture.
This track from the self-titled fifth is fine proof.
Artist Links: Facebook / Twitter
15. L I P S – Sunken (2018) (45:34)
It is beyond comprehension that this Falmouth, UK based band have not been signed yet, considering singles Walls and Apartment are being repeatedly played on Spotify by an increasingly adoring public.
This live performance from their track recent RouteNote Sessions (see below) is proof of their sheer potential.
Artist Links: Facebook
16. The Hermit Crabs – Feel Good Factor (2006) (50:48)
The @janglepophub Twitter site was largely dedicated the jangliest of Scottish bands in December and this fantastic track from the California Snow Story off shoot, represents this area of attention by the Fickle Finger.
Carrying on their beautiful indie-pop from their CSS days Melanie Whittle and Des McKenna have been releasing wonderful tracks like this (from their debut EP of the same name) since 2006 and remain stalwarts of the Matinee label.
Artist Links: Facebook / Twitter
17. Cats on Fire – Higher Grounds (2006) (50:35)
Sweden can always be relied upon to provide the sort of crystalline jangle-pop that leads the beauty of the genre into a completely untouched area…and perhaps Cats on Fire are right up there with the Acid House Kings in providing us with the jangliest of indie-pop over the years.
It does not get too much more jangly than this cracker from their draw in the reins EP out of Fraction Discs.
Artist Links: Twitter / Facebook
18. EggS – Duck Pond (2018) (56:21)
We reviewed the flyer single ( I Fell in Love) from this EP and speculated that the release may well be a late contender for a few 'best of' lists.
With the EP now out on Vinyl from Paris based Howlin Banana Records, it would appear that we are spot on, with this track leading the way on an extremely solid four song EP.
Perhaps a tad more jangle inflected than the glorious psyche weirdness that their label is usually associated with, I hope this is a direction that both band and label continue to explore.
Artist Links: Bandcamp
19. The Lightning Seeds – Song For No One (2006) (58:12)
The Lightning Seeds, headed by respected producer Ian Broudie, had one massive hit with 1992's Life Of Reilly and then became something of a parody of themselves by performing the 1996 Euro Champs England song (Three Lions) with a couple of comedians that became and still is, the anthem of a millions drunken football fans, who sing it incessantly every time England fail in another tournament.
This association is undoubtedly a shame as this Liverpool based band could do everything from the finest Shack like jangle-pop to the sort of scouse-pop that flutters away on this track.
This truly fine track was a new recording for The Very Best of The Lightning Seeds compiltaion that they released in 2006 and is one of the best on it.
Artist Links: Twitter / Facebook
20. Chorusgirl – In Dreams (2018) (01:00.55)
It took London four piece Chorusgirl three years to follow up on their brilliant eponymous debut released out of Fortuna Pop. As such by the time they released this sophomore album, blog type lads and lasses like myself were clambering over themselves to review it, to such an extent that it had all been said by the time I listened to it…so bothered I not !
However, despite my lack of a review I can confirm that the numerous platitudes surrounding the release were correct and this is without doubt the sound of a band naturally infusing lyrics inflected with new life experience into what has become their standard gorgeous sound.
Sheer beauty as typified by this track.
Artist Links:
Hope to see you all Fickle Finger #0008