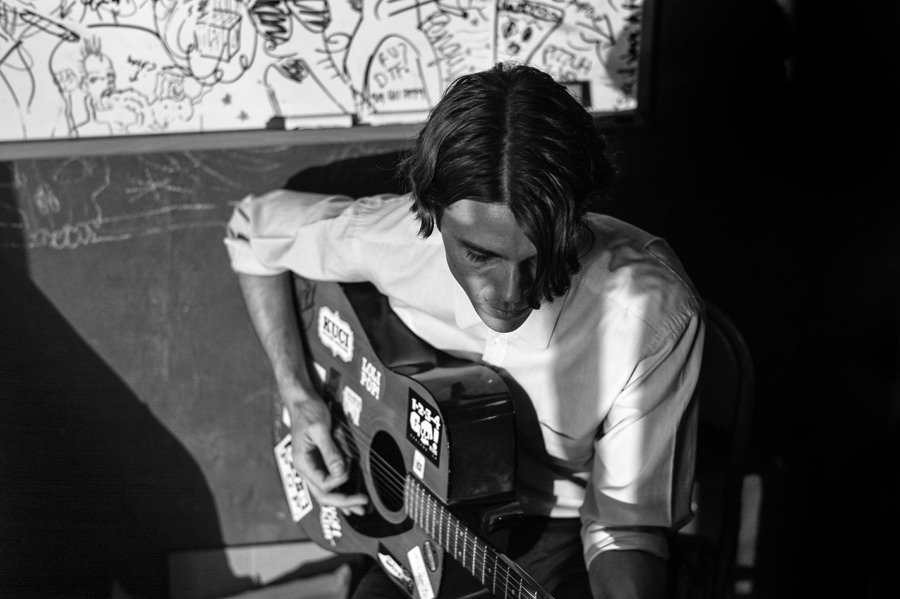 The 7″ vinyl single invites fetishism. Of course there is no real reason why someone should pay the exorbitant amount that vinyl costs (and the ridiculous shipping costs it commands) especially when the sound quality is significantly inferior to the higher quality digital / CD formats.
…but it's all about the occasion and acts like Tracy Bryant have mastered the art of making the 7″ a thing of expectant beauty. Initially he only releases once every couple of years. Then he makes them different enough/marvelous enough to justify the price paid to enjoy the routine of slipping the vinyl carefully out of it's sleeve, giving it the slightest sniff and slipping it onto the turntable whilst hardly daring to put the needle onto your newly prized possession.
The 'different enough' of this single is the salient point(s). Different from his previous work and equally different to much of what is in the market place at present, the A-side (Drag) satisfies my need for alt.jangle by juxtaposing soporific lead guitar riffs, with kraut rock drum beats that ooze all manner of metronomes, whilst Jah Wobble bass lines hold all that should be a musical Eton mess, firmly together.
It truly is a memorable track and will remain so, as Drag (see below) does not appear on the soon to be released Hush album due out in August. Some will dismiss this as marketing ploy and of course it may well be. Either way it adds to the sense of occasion that single lovers desire.
The difference does not end there though, as the gentle flip of the vinyl reveals the What I Get, B-side (see below, this one is included on the forthcoming album) to be completely alien to the A-side.
All  orchestral string flourishes that are delivered in multiple layers, Bryant delivers his disparate vocals in his typically atypical, half spoken word manner. It is a vocal delivery that does not warrant or even deserve the extravagance surrounding it, but it is this apposite tension that is the driving force of the track.
Bryant's music always excels in it's originality and this single continues such a pertinent trend.
Artist Links:  Tumbler  Facebook  Twitter Instragram
Label Links:  Instagram Official Site